LINUX TRAINING COURSE MUMBAI
No 1 institute for Linux training course mumbai.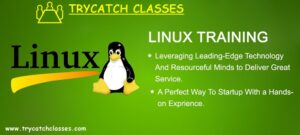 At TryCatch Classes, we give the best practical training in Linux. We are also the best Linux training course mumbai. We provide 100% practical training in Linux. Become an expert in Linux course in mumbai.
COURSE MODULE:
The content of Linux training in Mumbai course is as below.
Training Schedule – LINUX Training Course

Module1
Introduction & Basic Architecture of Linux


The Operating System.
Kernel Shell Architecture.
Installing Linux CentOS6/RHEL6 & Customization.

Different flavours of linux.
Getting around the system.

Features of linux.

Multi-user system, Multitasking, Building block approach.
Linux toolkit, Regular Expressions, Programming facility.
Documentation.

Flexibility of Command Usage.

Combining commands, Unix help.

Understanding Linux file system hierarchy.

Module 2
General Purpose Utilities


Cal, ls, date, eh, echo, printf, bc, script, passwd, who, uname, tty, stty, pwd, cd,mkdir, rmdir,touch
soft link and hardlink.
significance of PATH.
ctrl commands.
runlevels.
redirection & pipes.
SHELL environment variables.

Module 3
Handling Ordinary Files
And BasicFile Attributes &
Permissions


File commands, Directory commands.
Compression Utilities (tar,gzip,zip,bzip,unzip, etc)
File/Directories permissions.
Significance of unmask.
Special permissions (SUID,SGID,Sticky Bit).

Module 4
vi Editor

vi basics.
command, ex mode.
Find and Replace.
Customizing vi editor (vi's profile).

Module 5
User Administration

Creating users, groups.
Understanding important credential files. (etc/passwd,/etc/shadow, /etc/group, /etc/gshadow, /etc/logins, defs etc.)
Tune user management policies.
Modifying users, groups.
Access Control Lists.

Module 6
Package Management

using

RPM & YUM


Install & remove packages using rpm & yum.
Listing of rpms and getting details of rpm.
Configure yum server and yum client.
Resolve Dependencies using yum.

Module 7
Filters

Simple Filters utilities tr, cut, head, tail, uniq, sort, etc.
Filter using regular expressions – grep, sed, awk.

Module 8
Linux Scheduler (cron)

Understanding crontab entries.
Schedule a cron job.

Module 9
Basic Shell Scripting

Module 10
Sysadmin Troubleshooting


Checking log files for errors and issue troubleshooting.
RHCSA and RHCE certification information.

Total Training Hrs

72 (2.5 Hrs/Day)

Batches

Weekdays (Morn/Even)

Week Ends
CERTIFICATION In Linux:
At TryCatch, at the end of your training, you will get a Linux Certification from us which will be very helpful for you in your future.
PLACEMENTS & JOBS in Linux:
At TryCatch Classes, we provide Placement Training in Mumbai. We provide interview questions along with supplying your Resumes to various Companies. We prepare you for your interview by giving you relevant experience in interviews.
OTHER COURSES WE TEACH:
TryCatch Classes offers a full fledge web designing and development course package in Mumbai. Here is the list of other courses you can join:
BATCH DETAILS:
Batch Timing
Weekdays & Weekend Batch.

1st Batch : 7 am to 9.30 am.
2nd Batch : 10 am to 1 pm.
3rd Batch : 2 pm to 4.30 pm.
4th Batch : 5 pm to 7 pm.
5th Batch : 7 pm to 9.30pm.
CONTACT US:
To enquire about Linux classes in mumbai, visit our training center in Borivali or contact us here:
CONTACT US