Lumion Training Course in Mumbai
Best training institute for Lumion training course in Mumbai. Get hands-on practical training in Lumion. At TryCatch Classes, we provide real-time training with various projects. We make sure that you also get an experience level like a 1 year Lumion expert.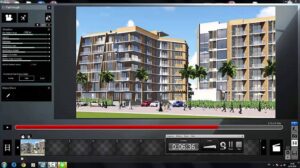 Why Lumion Training?
Now any architect can create beautiful renders quickly. With Lumion, you work in real time. Production-quality images can be saved to disk in seconds. Lumion can also produce videos and panoramas from the same project file. In this course, instructor Brian Myers covers the essentials of this powerful visualization tool.
Learn how to import CAD models, add cameras, and build out a beautiful environment, with different types of virtual weather and terrain. Brian shows how to add water features, foliage, and lighting, and assign and adjust materials to help your renders look more realistic.
WHAT YOU LEARN?
In this Lumion training course in Mumbai, you will learn the following concepts:
Learn how to work with the Build Mode context menu.
Replace, move, duplicate, and randomize positioning of items-without affecting any other objects or settings in your render.
Learn how to render video, still images, and panoramas from Lumion.
Upload your projects for sharing on MyLumion.
COURSE MODULE:
Benchmarking performance
Controlling the camera
Importing models
Creating camera paths
Rendering video
Configuring the environment
Building a realistic landscape
Lighting
Working with materials
Using build mode
Adding effects
Rendering videos and still photos
Creating panoramas
PLACEMENTS:
We offer unique placement assistance in Lumion Training and that is why we are the no 1 Lumion training classes in Mumbai. At TryCatch Classes, we provide interview questions and prepare you for the interview as well. So you'll get the best placement assistance for Lumion.
CERTIFICATION:
Become a certified Lumion expert and get valuable certification from TryCatch Classes. This certificate is helpful everywhere in your career.
AWARDS:
TryCatch Classes has been awarded multiple times as the "Most Promising Software Training Institute in Maharashtra" and "Social Impact Award for Outstanding Contribution to Indian Education System" at Education several Award functions.
OTHER RELATED COURSES:
TryCatch Classes provides the best Lumion Training in Mumbai. Along with Lumion Training course, you can also learn,
HOW TO APPLY.
If you are looking for a successful career in Lumion, we invite you to visit our training facility or contact us:
CONTACT US