Magento Training In Mumbai
Get the best Magento training in Mumbai with TryCatch Classes. Learn Magento 2, the latest version. We practise a lot with our students. So making websites in magento is what we concentrate on. We also provide corporate trainings in companies. And it's the same thing that we teach at our premises too.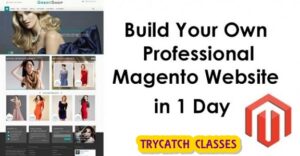 Magento CMS offers impressive flexibility and control to the website owners that enable them to create great e-commerce websites. It provides an unparalleled shopping experience to the target users. We offer an essential training course on the Magento Admin panel to help optimize the managing of your magento store. After completion of the Magento course in Mumbai, the candidate will be able to make ecommerce websites in a day.
In this course, you will explore the purpose of Magento, by creating live websites.
OBJECTIVES:
At the end of this Magento training course Mumbai, you will be able to:
Make ecommerce websites in a day.
Easily upload bulk items.
Make discounts for products.
Integrate the Payment Gateway and Logistics.
WHAT YOU WILL LEARN FROM THIS COURSE:
This course empowers merchants toward self-management of the Magento store. It will enable students to gain an understanding of the Magento Admin panel in the areas of:
Catalog Management.
Product Marketing.
Operations.
Why Magento Training From Us?
PREREQUISITES:
Knowledge of PHP is helpful for customizations.
COURSE MODULE:
Here is the course content of Magento training in Mumbai.
Training Schedule – MAGENTO Training Course

Module 1:
Getting Started With
Magento.

What is Magento CMS.
Installing the Server or Localhost.
Installing Magento with or without Sample Data.
Features in Magento.
Industry Trends.
Touring My Account Dashboard.

Module 2:
Setting up Your Store

Setting Up Your Store Options.
Creating New Products.
Understanding Product Types.
Tiered Pricing, Special Pricing.
Managing Product Categories.
Checkout Options.
Adjusting Tax Settings.
Working with Shipping Methods.
Taking Your Store Live.

Module 3:
Setting Up
Payment Gateways

Exploring Payment Methods.
Understanding Payment Gateways.
PayPal Payments.
Google Checkout.

Module 4:
Customizing Your Store
in Magento CMS

Adding Pages to Your Store.
Working with Blocks & Widgets.
Changing Page Layouts.
Adding Links to the Nav Bar.
Adding Products to the Homepage.
Working with Themes.
Using a Custom Domain Name.

Module 5:
Creating Your own Theme
in Magento

Exploring Magento Template System.
Understanding directory and file structure.
Customizing a Theme.
Working with Page Templates.
Layouts.
Block Templates.
How to create Modules.

Module 6:
Operations

Order Management.
Back End Order Placement.
Credit Memos/Returns.
Shipping.
Customer Service.
Transaction Email.
Shopping Cart Management.
Self-management Configuration.

Batches
Weekdays (Morn/Even).
Weekends.
Best Magento Training Institute classes in Mumbai :
Trycatchclasses offers magento online training in Borivali Mumbai covering administration and day-to-day operation of your site. Our courses are always tailored around your learning needs and can be delivered on-site at your premises or off-site at our Borivali training centre. On this Magento course, you will interact with your tutor on a one-to one basis and receive tailored help to suit your learning needs.
Learn to make websites with Try-Catch Classes. We emphasize on practical sessions rather than theory. We are located in Mumbai, India and targeting all over the world in Magento web development.
PLACEMENTS:
At TryCatch Classes, we provide 100% Placement Training in Mumbai. We know what questions interviewers will ask you. So you will be well prepared when you go for your interview.
CERTIFICATION:
At the end of the Magento training in Mumbai, you will get a Magento certification from us which will be very helpful for you in your future.
AWARDS:
TryCatch Classes has been awarded multiple times as the "Most Promising Software Training Institute in Maharashtra" and "Social Impact Award for Outstanding Contribution to Indian Education System" at Education several Award functions.
If you are still wondering to join or not, then read Aamir's advice below: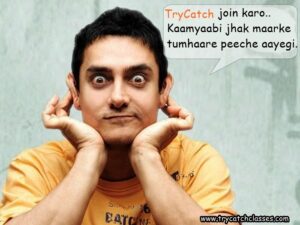 OTHER RELATED COURSES:
TryCatch Classes provides the best MAGENTO Training in Mumbai. Along with Magento Training course, you can also learn,
WHAT WE OFFER:
Live project training on our live projects.
100% job placemen.
Practicals and Live project training after completing our course: Magento training mumbai.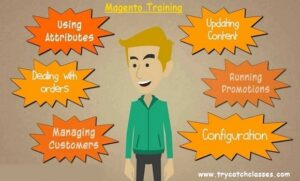 HOW TO APPLY.
If you are looking for a successful career in Magento, we invite you to visit our training facility or
CONTACT US