SAS Training Course In Mumbai | SAS Classes Mumbai
No 1 training institute for SAS training course in Mumbai. Get practical hands-on experience in SAS with real-time projects. Become an expert with our SAS training course. We make sure you get an experience level like a 1-2 year old SAS developer.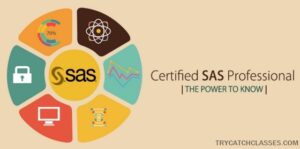 WHAT IS SAS?
SAS is a software suite that can mine, alter, manage and retrieve data from a variety of sources and perform statistical analysis on it. SAS provides a graphical point-and-click user interface for non-technical users and more advanced options through the SAS language. In order to use Statistical Analysis System, Data should be in an spreadsheet table format or SAS format.
SAS programs have a DATA step, which retrieves and manipulates data, usually creating a SAS data set, and a PROC step, which analyzes the data. Moreover, SAS has an unshakeable leadership in data mining and predictive analysis.
BENEFITS OF SAS:
At the end of this SAS training course in Mumbai, you will be able to:
Simplify data preparation.
Quickly and easily create better models.
Put your best models into service. Fast.
Learn Modern, industry-specific techniques.
Flexible processing and deployment.
WHAT YOU WILL LEARN FROM THIS COURSE:
When you learn SAS course with us, you get to :
Interact with your data quickly and intuitively using dynamic charts and graphs to understand key relationships.
Use drag-and-drop interface that's both easy-to-use and powerful.
Spend less time and effort scoring new data using automated, interactive processes that work in both batch and real-time environments.
Industry-specific algorithms (for credit scoring, clinical data analysis, etc.).
COURSE MODULE:
The content of SAS training in Mumbai course is as below.
Training Schedule – SAS Training Course Mumbai

Module 1:
SAS Fundamentals

Components of SAS.
Understanding SAS Windows.
Navigating in SAS Console.
SAS Language Input Files.
Data Step Processing.
Data Sets.
Combining and Modifying Datasets.
Concatenating Datasets.
Interleaving Methods.

Module 2:
Data Manipulation in SAS

Reading Raw Data Files: COLUMN.
Reading Raw Data Files: FORMATTED.
Reading Raw Data Files: LIST.
Controlling Processing of Data with INFILE Statement.
Exploring Components of INPUT Statement.
Column, Line Pointer, Trailing @ Controls.
Exploring SAS Libraries.
Temporary and Permanent Libraries.
Reading Data with Missover, Truncover.
Reading Data with Stopover, Flowover.
Reading Data with DSD and DLM.
DATA Step Processing.
Phases: Compilation and Execution.
Understanding Program Data Vector (PDV).
SAS Data Sets and Descriptor Portions.
Storage of SAS Files.

Module 3:
SAS Statements

System Options.
Data Set Options.
Statement Options.
Informats and Formats.
SAS Statements: Attrib and Datalines.
SAS Statements: Delete, Drop, and Keep.
SAS Statements: Label, Length, Retain, Sum, and Dim.

Module 4:
SAS OPTIONS

Studying Data Set Options.
Data Set Options: KEEP, DROP, RENAME, FIRSTOBS.
Data Set Options: OBS, IN, LABEL, WHERE.
Exploring SAS System Options.
SAS System Options – OBS, FIRSTOBS, BUFNO, BUFSIZE.
SAS System Options – LINESIZE, PAGESIZE, NODATE, YEARCUTOFF.

Module 5:
SAS Functions

Understanding SAS Functions.
SAS Functions: INPUT and PUT.
SAS Functions for Date and Time: MONTH, YEAR, DAY.
MDY, DATE, TODAY, DATETIME.
SAS Functions: SCAN, SUBSTR, TRIM, LEFT, RIGHT, INDEX.
SAS Functions: UPCASE, LOWCASE, MEAN, COMPRESS, LENGTH.

Module 6:
Arrays in SAS

Understanding Arrays.
How to Create Variables using Arrays?
How to Assign Initial Values to Arrays?
Exploring Multidimensional Array.

Module 7:
Conditional Processing

Understanding Conditional Processing.
Subsetting IF.
IF-THEN/ELSE Statement.
Implementing DO statement.
Nesting of the DO Loop.
DO UNTIL and DO WHILE Statement.

Module 8:
Data Manipulation

Exporting Data.
Creating Standard and Comma-delimited Raw Data Files.
Connecting to Servers.
Connecting to SQL Server.
FTP through SAS.
Merging and Appending Data.
Exploring SET and MERGE Statements.
Studying MODIFY and UPDATE Statements.
Implementing WHERE Statement.
Difference between WHERE and IF Statements.
RETAIN and RETURN Statements.
SAS Procedures: Analysis and Report Generation.
Defining PROC SQL.
Proc Print and Proc Sort.
Proc Means and Proc Contents.
User-defined Formats.
User-defined Titles & Footnotes.
Retrieving Data from a Table.
Selecting Columns in a Table.
Retrieving Data from Multiple Tables.
Selecting Data from Multiple Tables.
Concatenating Query Results.
Date/Time Functions.
Missing Value Treatment.
Handling Missing Value.
SCAN Function.

Module 9:
SAS MACROS

Understanding SAS Macros.
Need for SAS Macros.
Storing SAS Macros.
SAS Macros Functions.
SQL Clauses for SAS Macros.
Calling Macros.
Understanding Macros Variables.
What are Macro Parameters?
Macro Quoting Techniques.
Studying Macro Debugging Technique.
The % Macro Statement.
The Conditional Statement.
Error Handling in SAS.
Programming Logic Errors.
Identifying and Resolving Errors.
Recognizing and Correcting Syntax Errors.

Module 10:
Statistics &
Stastical Procedure

Statistics and Statistical Terms.
Procedures in SAS for Descriptive Statistics.
Hypothesis Testing.
Parametric and Non-Parametric Tests.
Parametric Tests – Advantages and Disadvantages.
Statistical Procedures.
PROC Means, CORR, FREQ, UNIVARIATE, REG, ANOVA.
Defining Clustering.
Exploring Clustering Methodologies.
K Means Clustering.
Decision Tree.
Regression and Logistic Regression.
Time Series Analysis.
White Noise Process.
ARIMA Modeling.
Optimization Models.
PROC OPTMODEL.

Module 11:
Connecting to
Outside World

FTP thru SAS.
Connect to different servers (SQL server etc).
Export data to create standard and comma-delimited raw data files.

Module 12:
Merging &
Appending Data

SET and MERGE Statements.
MODIFY and UPDATE Statements.
WHERE Statement and differences with IF.
RETAIN and RETURN Statements.

Projects
Placement Training

Preparing for interview questions and training for your corporate life.

Total Training Hrs
20-25 (2 Hrs/Day).
Batches
Weekdays (Morn/Even).
Weekends.
PLACEMENT GUARANTEE:
We offer 100% placement guarantee in SAS and that is why we are the no 1 SAS  training classes in Mumbai. At TryCatch Classes, we train students for interviews and offer placements in corporate companies.
CERTIFICATION:
At the end of the SAS training course in Mumbai, you will get a SAS Certification from us which will be very helpful for you in your future.
AWARDS:
TryCatch Classes has been awarded multiple times as the "Most Promising Software Training Institute in Maharashtra" and "Social Impact Award for Outstanding Contribution to Indian Education System" at Education Leadership Awards.
OTHER RELATED COURSES:
TryCatch Classes provides the best SAS Training in Mumbai. Along with SAS Training course, you can also learn,
CONTACT US:
If you are looking for a successful career in Android, we invite you to visit our training facility or contact us:
CONTACT US