Selenium Training Institute In Mumbai | TryCatch Classes

4.9 out of 5 based on 850 ratings.
1084 user reviews.
Are you looking for the No 1 Selenium Training Institute In Mumbai? TryCatch Classes is the best Selenium classes in Borivali, Mumbai. Learn Selenium in Mumbai with private one-on-one classroom training.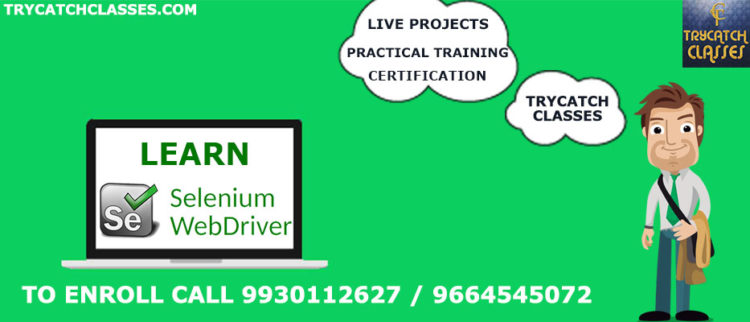 What is Selenium?
Do you know Selenium has become one of the most popular automation tool that exists in the web today. Selenium is an open source tool which gives the flexibility to interact with web applications using various automation techniques.
Selenium IDE is an integrated development environment for Selenium scripts. In addition to this, it is implemented as a Firefox extension, and allows you to record, edit, and debug tests.
FEATURES OF SELENIUM COURSE:
Our selenium trainers are selenium experts and experienced working professionals with hands on real time multiple Selenium projects knowledge.
Selenium IDE, Selenium WebDriver Maven, and many other important topics are covered during the course. You will learn to perform tests on multiple machines simultaneously running on different Operating Systems. Also get to learn to integrate other frameworks like JUnit and TestNG with Selenium.
Today's web portals consists of different types of transactions. However to test such web portals, Selenium is the most preferred tool in the market. This course is for graduates and professionals who want to pursue their career in automation testing with Selenium and have an upper edge in this competitive world. TryCatch Classes is the best Selenium Training Institute In Mumbai. We provide hands-on training in Selenium course mumbai.
OBJECTIVES:
At the end of this Selenium training classes in Mumbai course, you will be able to
Work on Live Projects.
Learn Data Driven Framework.
Work with Keyword Driven Framework.
Selenium Test Runner
Building and running Test Cases
Perform Cross browser testing.
Debugging
Practically perform testing as done in MNCs.
WHAT YOU WILL LEARN:
You should be able to justify 2-3 years of your existing experience in Selenium.
We will make you learn Selenium Webdriver, Selenium Grid, Selenium Framework Design, TestNG, Maven.
Industry specific actual application testing.
BDD with Cucumber.
Live Website testing.
PREREQUISITES:
In order to learn Selenium, here is the list of prerequisites you need to know:
Basic Knowledge of Core Java is helpful. But don't worry, we teach Java in our course too.
Manual testers, Non-programming aware testers interested in learning Automation Selenium.
Any Software engineer who are interested in learning Selenium Automation.
COURSE MODULE:
Selenium Training

Module 1:
Core Java

Java program structure.
Introduction to classes and objects.
Running first Java program.
Introduction to data types.
Access Modifiers.
Functions and Variables.
Loops in Java.
Abstraction.
Polymorphism.
Inheritance.
Encapsulation.
Exception Handling in JAVA.
Collections (List, Set, MAP).

Module 2:
Locators

What are locators.
Types of locators
Examples of using Locators.
Advantages and disadvantages of using locators.

Module 3:
Selenium Basic

Advantage of Selenium.
Disadvantage.
Selenium IDE.
Selenium WebDriver.
Selenium components.
Selenium Evolution.
Setting Up Eclipse.
Checking JDK version.
Setting up JAVA PATH.
Adding JAR files.
Writing and Running small JAVA program.

Module 4:
Selenium Web Driver

Setting Up WebDriver in Eclipse.
Different types of identifiers used in WebDriver.
Creating WebDriver Instance for Browsers.
Handling Different types of WebElements.
Performing basic operations on AUT.
Handling Synchronisation Issues.
Handling Dynamic Objects.
How to handle ajax controls and WebTables
Select Class in WebDriver.
Action Class in WebDriver.

Module 5:
Selenium Webdriver
(Continued…)

Setting Up the test for IE Browser.
Creating One test scenario for IE Browser.
Setting Up the test for Chrome Browser.
Creating One test scenario for Chrome Browser.

Module 6:
Java Testing Framework
(JUnit)

Junit Intro.
Setting up JUnit in Eclipse.
Annotations Used in JUnit.
Running Test using JUnit.
JUnit Reports.

Module 7:
Java Testing Framework
(TestNG)

TestNG Intro.
TestNG Installation.
Annotations Used in TestNG.
Using TestNG.xml in our Tests.
Running Test Using TestNG.
TestNG Reports.

Module 8:
Database

Connecting to database through code.
Extracting data from select queries.
Updating data in the database.
Looping through the results of a query.

Module 9:
Log4j

Why log4j ?
Creating and setting up a log4j log file.
Updating the log4j file.
Different options warn/info/fatal, etc. to update the log file.

Module 10:
Maven

What is maven ?
Advantages of maven & how to use.
Setting up maven.
Adding dependencies.

Module 11:
BDD with CUCUMBER

Cucumber and it's usage.
Overview of BDD Framework.
Learning Gherkins Language.

Module 12:
EXTEND REPORT

Advantages of extend report.
Implementation of Extend Report in live project.
Analysing the extend report.

Module 13:
Introduction To
Frameworks.

What is a FrameWork ?
Data Driven Framework.
KeyWord Driven Framework.
Hybrid Framework.

Module 14:
Page Object Model


What is Page Object Model (POM) ?
Concept of Object Repository.
Need for POM.
Implementing POM.
This is complete practical training selenium course. Course includes Java, Selenium, TestNG, Maven, Cucumber, Log4j, Database queries and more. You will learn Java and selenium from scratch.
Only Practical training. Learn from a basic level to a very advance level. After the course, you will make Android Apps like a pro.Also work on live projects with us by making android apps from scratch. That is why, TryCatch Classes is the best Android training Institute in Mumbai.
Selenium Training FAQs
Is there any recognized Selenium Certification?
Unfortunately, there is no Selenium certification which has industry wide recognition. So, training organizations like Trycatch issue certificates based on participant's performance on project work.
Can I learn java as I have no programming background?
We teach core java from scratch to make you comfortable with programming, only then we will start with selenium. It's difficult to pick up Java in the beginning, we agree with that. That's the reason we have taken a hands-on training approach. The classes are conducted in the Lab so that you practice everything you learn simultaneously.
In addition, the trainers have all been in the same boat as you. They were once manual testers and are now working in MNCs as selenium automation testers. So they understand your pain points and teach accordingly.
Will I get any certificate after the course?
Yes, you will get a certificate after the completion of the course and after finish your project successfully.
Will there be any project, which I will be working on during the course?
Yes, you will be given a project to work on, which you can finish with the course. You can also take some more time and submit after a couple of weeks as well.
Will it be a practical hands-on course? How will the lab sessions be conducted?
Selenium is purely a hands-on course with practical classroom training. Learn from highly qualified & experienced industry practitioners. Practical training with theoretical knowledge for guaranteed improvement in the current skill set. Our content is regularly upgraded based on the latest trends, syllabus & case studies.
PLACEMENT GUARANTEE:
We offer 100% placement assistance in SELENIUM COURSE and that is why we are the no 1 selenium training Institute in Mumbai. At TryCatch Classes, we train students for interviews and offer placements in corporate companies.
CERTIFICATION:
At the end of the Selenium training course in Mumbai, you will get a Selenium Certificate from us which will be very helpful for you in your career.
AWARDS:
TryCatch Classes has been awarded multiple times as the "Most Promising Software Training Institute in Maharashtra" and "Social Impact Award for Outstanding Contribution to Indian Education System" at Education Leadership Awards.
OTHER RELATED COURSES:
TryCatch Classes provides the best Selenium Training Institute in Mumbai. Along with Selenium course, you can also learn,
CONTACT US:
If you are looking for a successful career in Selenium, we invite you to visit our training facility or contact us:
CONTACT US