Sketch Training Course In Mumbai
Hey Guys, Want to learn sketch app in Mumbai? TryCatch is only classes in Mumbai who teach Sketch App from beginner basics to advanced techniques. Sketch Training Course in Mumbai is an application which has already won the hearts of UI and UX designers around the world, even though just about anybody can learn how to use it.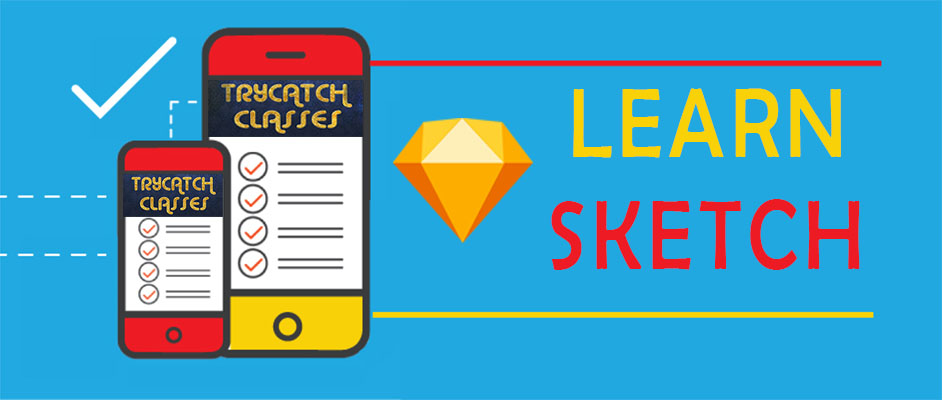 Why Sketch?
Sketch 3 is a design tool focused on user interface and user experience design. It's really easy to understand; anyone with little training can learn sketch app in Mumbai. It's perfect for designing for multiple mobile devices, working on responsive web design, delivering assets in an easy way.
WHAT WILL I LEARN?
Learn the Fundamentals and Some Advanced Tricks on Sketch.
Create realistic prototypes for mobile devices and web.
Material mobile app designs from scratch.
Approach app design with UX consideration.
Know best practices for UX research.
Master the newest program for graphic designers, Sketch 3.
Create custom icon packs.
Start a new career as a UI/UX designer.
PREREQUISITE:
No prerequisite is required for Sketch training course.
Training Module – Sketch Training Course in Mumbai

Module 1:
Introduction

What is Sketch?
Vector vs Raster.
Interface Tour.
The Anatomy of a Sketch Document.
Save and Autosave.

Module 2:
Layer Basics

Types of Layers.
Interacting with Objects.
Easy Precision and Math.
Guides and Grids.
Hiding, Locking, and Grouping Layers.

Module 3:
Shapes

Adding Shapes.
Activity – Building the Outline.
Editing Shapes.
Drawing Vector Shapes.
Activity – Drawing Vector Shapes.
Boolean Operations.
Masking.
Scaling vs Scaling.
Make Grid.
Importing from Adobe Illustrator.

Module 4:
Styling

Fills.
Activity – Fills.
Borders.
Blending Modes and Opacity.
The Magic of Shadows.
Activity – Adding the Icons.
Blurs.
Borrowing style.
Shared Styles.
Finishing Touches.

Module 4:
Text

Basics of Text Editing.
Area Text and Styling.
Text on a Path and Outlines.

Module 5:
Images
Module 6:
Symbols

Create Symbols and export.

Module 7:
Workflow Pro Tips

Pixel Preview.
Presentation Mode.
Managing Tons of Layers.

Module 8:
Exporting

Artboards in sketch.
Layers and Slices.

Total Training Hrs
Approx 24 hours of training + Project Hours.
Batches
Weekends.
PLACEMENTS:
At TryCatch Classes, we provide 100% Placement Training in Mumbai. We provide interview questions along with supplying your Resumes to many Companies.
CERTIFICATION:
At the end of the Sketch training in Mumbai, you will get a certification from us which will be very helpful for you in your future.
AWARDS:
TryCatch Classes has been awarded multiple times as the "Most Promising Software Training Institute in Maharashtra" and "Social Impact Award for Outstanding Contribution to Indian Education System" at Education several Award functions.
Material Design UI Example Using Sketch:
CONTACT US:
If you are looking for a successful career in Sketch, we invite you to visit our training facility or contact us: