SOFTWARE TESTING COURSE IN MUMBAI
No 1 institute for Software testing course in mumbai. Get hands on practical training in Automation and Manual Software Testing courses in Mumbai. Our 100% positive reviews on google in software Testing proves we are the best training institute in Mumbai for software testing.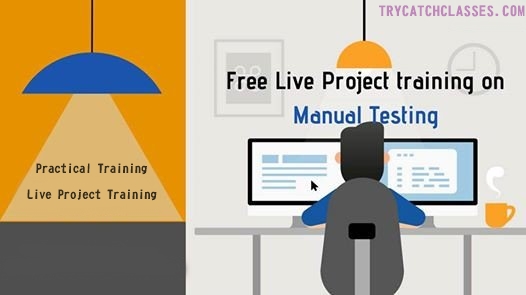 AtTryCatch Classes, our software testing training programmes are designed to progress from testing fundamentals and gradually move you towards advanced testing techniques. The programmes are designed and taught by renowned Software Testing Professionals & Educators. Our training is practical & job oriented. We are the best Software Testing classes in mumbai.
OBJECTIVES:
At the end of this Software Testing course in Mumbai, you will be able to
Work on Live Projects.
Perform manual testing as well as automation testing.
Practically perform testing as done in Multinational companies.
WHAT YOU WILL LEARN:
All Types of Testing.
Test Design Techniques.
How to test on live projects.
PREREQUISITES:
Knowledge of Types of Testing is an advantage but not mandatory.
COURSE MODULE:
Training Module – 'Manual Software Testing' Training Course

Module 1:


Fundamentals of Testing

Why is Testing necessary?
What is Testing?
General Testing Principles.
Fundamental Test Processes.
Types Of testing Processes (manual and automation)
whats is manual and Automation Testing ?

Module 2 :
SKILL SET AND ROLE OF QA TESTER

skill set.
Roles and responsibility Of Qa Manual Tester.
Introduction of SDLC(Software Development Life Cycle).
Types of Software and Its development.

Module 3 :
DETAILS of SDLC(Software Development Life Cycle)


Software Development.
sdlc part 2.
sdlc part 3.

Module 4 :
Project Introduction, Requirement Analysis, Jira installation, Agile process

Introduction of Project Requirement.
Jira Installation, Backlog, Epic and User stories
Continue with Jira User stories and Sprint planning.
Complete requirement creation in Jira based on the project.

Module 5 :
Test Cases, Test Plan Creation


Test Case creation.
Test Plan creation.

Module 6 :
Test Management

Test Organization.
Test Planning and Estimation.
Risk and Testing.
Incident Management.

Module 7 :
Lets do testing.


Functional Testing Part 1
functional Testing Part 2
Live UI Testing
More Testing on Store Navigation page
Concept of Boundary value analysis and Equivalence portioning method.

Module 8 :
Writing Defects, Defect life Cycle


Lets write up the defect we found during our testing.
Defect Life Cycle.

Module 9 :
Different Types of Testing, Different types of Environment, Release process


Different Types of Testing.
Different Environments, Release process & Sample Resume.

Module 10 :
API Testing


Introduction of API Testing.
API Types and their differences.
Real time examples of API Testing.

Module 11:
ISTQB preparation

Fundamentals of testing.
Testing Throughout The Software Life Cycle.
Static Techniques.
Test Design Techniques.
Test Management.
Tool support for Testing.

Total Training Hrs
18 (2 Hrs/Day).
Batches
Weekdays (Morn/Even).
Weekends.
PLACEMENTS:
We offer unique placement assistance in Software Testing Training and that is why we are the no 1 Software Testing training classes in Mumbai. At TryCatch Classes, we provide interview questions and prepare you for the interview as well. So you'll get the best placement assistance for Software Testing.
CERTIFICATION:
At the end of the Software Testing course in Mumbai, you will get a Certification from us which will be very helpful for you in your future. Our certification is valid everywhere on the globe because we are the best Software Testing training institute in Mumbai.
AWARDS:
TryCatch Classes has been awarded multiple times as the "Most Promising Software Training Institute in Maharashtra" and "Social Impact Award for Outstanding Contribution to Indian Education System" at Education several Award functions.
Learn Software Testing course in mumbai with TryCatch. We provide the following:
2. Selenium Training Insititute In Mumbai.
3. Software testing interview questions.
4. ISTQB Foundation Certification in Mumbai.
If you are looking for a successful career in Software Testing, we invite you to visit our training facility or contact us:
CONTACT US
&nbsp