Web Designing & Development Training Course In Mumbai
No 1 private coaching for web designing training course in mumbai. At TryCatch Classes, we provide one-on-one training in web design and development. We practise a lot with our students. So making projects and applications with our students is what we concentrate on. We also provide corporate training in web technologies. And its the same thing that we teach at our premises too.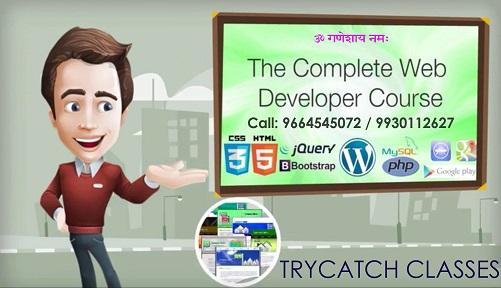 Why You Should Learn Web Designing?
Firstly, there are so many things you can develop when you learn web designing & developement. Easily create websites and applications using different front-end and back-end languages like html, css, angular, nodejs, php, wordpress, magento, codeigniter, laravel etc. Secondly, you can also do freelancing software projects for clients.
Learn to make websites and applications with Try-Catch Classes. We emphasize on practical sessions rather than theory. This Web Designing & Developement training course in Mumbai course will help students to get an easy entry into a career in web designing & developement. By the way, you can even check out our tutorials with free source code and demo.
OBJECTIVES:
When you join our web designing training & developement course in mumbai, we follow these objectives:
Make responsive websites using html5, css3, and bootstrap.
Use validations with javascript.
Make animations using jquery.
Back-end programming training in php with projects and applications.
Make websites in a day using wordpress.
Customisations in wordpress.
Make ecommerce websites in magento.
WHAT YOU WILL LEARN FROM THIS WEB DESIGNING COURSE:
Live Projects Experience (advance level projects).
Internship in web development.
How companies work on projects.
Work in as many as 5-10 live projects with us.
PREREQUISITES:
Anyone can learn Web Designing & Developement. You just need to work on live projects with us to gain experience.
WEB DESIGNING COURSES:

Here are the courses that we teach in web designing and development:
PLACEMENTS:
We offer unique placement assistance in Web Designing Training and that is why we are the no 1 Web Designing and Development training classes in Mumbai. At TryCatch Classes, we provide interview questions and prepare you for the interview as well. So you'll get the best placement assistance for Web Designing.
CERTIFICATION:
At the end of the Web Designing course in Mumbai, you will get a Certification from us which will be very helpful for you in your future. Our certification is valid everywhere on the globe because we are the best Web Designing training institute in Mumbai.
AWARDS:
TryCatch Classes has been awarded multiple times as the "Most Promising Software Training Institute in Maharashtra" and "Social Impact Award for Outstanding Contribution to Indian Education System" at Education several Award functions.
NO ONE CAN BEAT US IN PROGRAMMING..BECAUSE WE ARE THE BEST..! Ha ha!
Practicals and Live project training after completing our course: Web Designing & Developement training mumbai.
Try Catch Classes provides the best Web Designing & Developement Training Course In Mumbai. Along with Web Development Training course, you can also learn,
Contact Us for more details :

9930112627 
HOW TO APPLY.
If you are looking for a successful career in Web Designing & Development, we invite you to visit our training facility or contact us:
CONTACT US