Web Designing Course Mumbai
Build dynamic websites with our web designing course mumbai.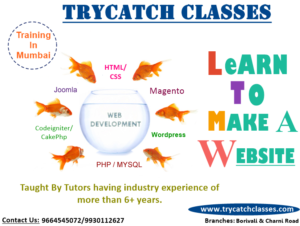 Trycatch classes provides professional training for Advance Web Designing Course Mumbai. Our structure of Web Designing course Mumbai is 100% practical, as per IT industry.
Our web designing course will ensure your best career as a web designer. In our web designing course, you will learn how to create professional website layouts, plan colors, selecting web fonts, converting images to tableless websites using HTML & CSS, placement of navigation links, content writing for website. Also learn how to use SEO techniques to optimised your website for search engines. Learn how to host your website on a server.
Our Web Designing course mumbai will turn you from a student to a professional Web Designer. Thus your career as a web Designer is secured with our web designing course. SO HURRY AND CALL US NOW !
WHAT YOU WILL LEARN FROM THIS COURSE:
When you learn Web Designing Course with us, you get to :
Make dynamic websites using HTML, CSS, Bootstrap.
Make responsive websites using wordpress.
Use javascript and jquery to make animations.
PREREQUISITES:
Anyone can learn Web Designing and Development.
OUR PACKAGE:
HTML + CSS + Javascript + Jquery + AngularJS + Bootstrap + PHP + Codeigniter + WordPress + Magento
Learn to make interactive websites and web applications with Try-Catch Classes. We emphasize on practical sessions rather than theory. You can also make dynamic responsive websites by enrolling for our WordPress training in mumbai course.
If you are looking for a successful career in Web Designing, we invite you to visit our training facility or contact us:
CONTACT US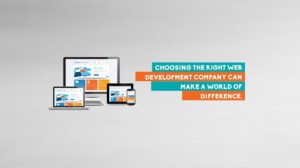 PLACEMENTS & INTERNSHIPS:

We provide internships in live projects to all students. To work in projects is the ultimate experience any web designer can get. We will be there to help you with your doubts even after the course. Placement assistance is also provided by us.
Trycatch classes also provides professional php training for learning php in Mumbai. Our php training course is 100% practical, as per industry oriented. This PHP training course in Mumbai coupled with the framework CodeIgniter course will help students to get an easy entry into a career in back-end web development.
Learn php from expert professional teacher who has good experinced in php. We are the best web designing training center in Mumbai.
After learning php everything that will ensure your best career as a web designer.