Java Training Course In Mumbai
No 1 institute for Java training course in mumbai. Get 100% practical training with no theory lectures. We are one of the leading institutes in India with 100% positive reviews on the internet. Work on projects and applications with us after the java training course in mumbai.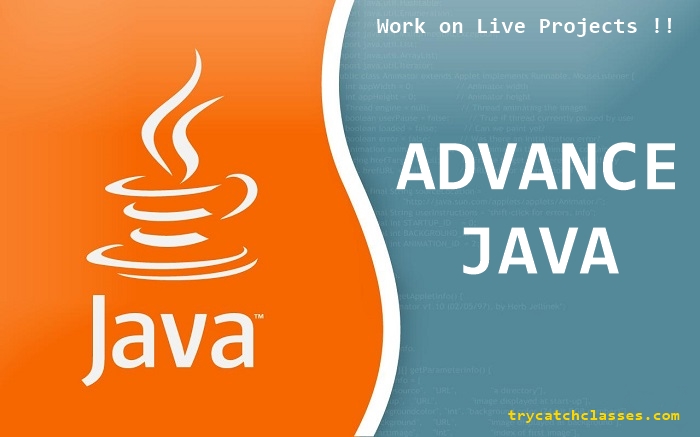 WHY YOU SHOULD JOIN OUR JAVA COURSE IN MUMBAI?
Java is a fundamental course for candidates willing to make their careers in field of Java. Core Java covers basics of object oriented programming using Java and basic APIs provided as a part of standard Java distribution.
At TryCatch classes, our Java Programming course provides an exhaustive coverage of Core Java Programming language features like Object-oriented Programming, Inheritance, Interfaces, OOPS, Exception Handling, Reflection, Standard I/O programming. Also learn File Handling, Generics, in-depth  MultiThreading, Socket Programming, JDBC, java real time project and Java placement training.
TAKEAWAY:
At the end of this Java training course in Mumbai, you will be able to:
Develop your programming abilities using fundamental concepts of Java programming language.
Pragram console based programs using Java.
Develop database applications using Java.
Make multithreaded application using Java.
WHAT YOU WILL LEARN FROM THIS COURSE:
When you learn Java with us, you get to :
Develop database applications using Java.
Create networking application in Java.
Understand basic APIs provided in Java to be ready to learn advanced concepts.
PREREQUISITES:
Knowledge of OOPS is beneficial.
Java Development Course Content

Module 1:
Introduction To Java


Object Oriented.
Platform Independent.
Automatic Memory Management.
Compiled / Interpreted approach.
Robust.
Secure.
Dynamic Linking.
MultiThreaded.
Built-in Networking.

Module 2:
Java Fundamentals


Data types.
Operators.
Control Statements.
Arrays.
Enhanced for-loop.
Enumerated types.
Static import.
Auto boxing.
C-style formatted I/O.
Variable arguments.

Module 3:
Essentials of Object-Oriented Programming


Object and Class Definition.
Using encapsulation to combine methods and data in a single class.
Inheritance and Polymorphism.

Module 4:
Writing Java Classes


Encapsulation.
Polymorphism.
Inheritance.
OOPS in Java.
Class Fundamentals.
Using Objects.
Constructor.
Garbage Collection.
Method Overloading.
Method Overriding.
Static Members.
Understanding Interface.
Using Interfaces class.

Module 5:
Packages


Why packages.
Understanding Classpath.
Access modifiers and their Scope.

Module 6:
Exception Handling

Importance of Exception Handling.
Exception Propagation.
Exception Types.
Using try and catch.
throw, throws, finally.
Writing User defined Exceptions.

Module 7:
I/O Operations in Java

Byte Oriented Streams.
File Handling.
Readers and Writers.

Module 8:
Multithreaded Programming

Introduction to Multi-Threading.
Understanding Threads and its States.
Java Threading Model.
Thread class and Runnable Interface.
Thread Synchronization.
Inter thread Communication.
Thread Priorities.
Preventing Deadlocks.

Module 9:
Java Util Package / Collections Framework

Collection and Iterator Interface.
Enumeration.
List and ArrayList.
Vector.
Comparator.
Set Interface and SortedSet.
Hashtable.
Properties.

Module 10:
Generics

Introduction to Generics.
Using Built-in Generics Collections.
Writing Simple Generic Class.
Bounded Generics.
Wild Card Generics.

Module 11:
Inner Classes

Nested Top Level Classes.
Member Classes.
Local Classes.
Anonymous Classes.

Module 12:
Abstract Window Toolkit

Graphics.
Color and Font.
AWT Components/Controls.
Event Handling and Layouts.

Module 13:
Collection of Framework.
Learn Java with Try-Catch Classes. We emphasize on practical sessions rather than theory. This Java training course in Mumbai course will help students to make a career in Java programming.
PLACEMENTS:
We offer unique placement assistance in Java Training and that is why we are the no 1 Java training classes in Mumbai. At TryCatch Classes, we provide interview questions and prepare you for the interview as well. So you'll get the best placement assistance for Java.
CERTIFICATION:
At the end of the Java course in Mumbai, you will get a Java Certification from us which will be very helpful for you in your future. Our certification is valid everywhere on the globe because we are the best Java training institute in Mumbai.
AWARDS:
TryCatch Classes has been awarded multiple times as the "Most Promising Software Training Institute in Maharashtra" and "Social Impact Award for Outstanding Contribution to Indian Education System" at Education several Award functions.
OTHER RELATED COURSES:
TryCatch Classes provides the best Java Training Mumbai. Along with Java Training course, you can also learn,
CONTACT US:
If you are looking for a successful career in Java, we invite you to visit our training facility or contact us:
CONTACT US