Jquery Training Course In Mumbai
No 1 Institute for Jquery training course in Mumbai.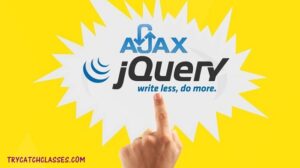 In this course, you will learn the usage of jquery in simplifying complex tasks, key concepts of JQuery, and how to best utilize it. You will also learn how to work with JQuery to handle forms and creating dynamic webpages.
OBJECTIVES:
At the end of this JQuery training course, you will be able to:
Confidently use JQuery in HTML/JavaScript Programming.
Create interactive web applications using JQuery.
The jQuery library makes it easy to manipulate a page of HTML after it's displayed by the browser.
WHAT YOU WILL LEARN FROM THIS COURSE:
When you learn Jquery with us, you get to :
Use the JQuery features to build pages that work across browsers.
Develop complex pagination/animation effects with JQuery UI plugins.
Create a dynamic web applications using Ajax with JQuery and retrieve dynamic pages(text/php) from Server.
PREREQUISITES:
Knowledge of HTML and Javascript is required.
COURSE MODULE:
Training Schedule – JQUERY Training Course

Basics Of Jquery


Overview of JQuery.
Downloading JQuery or using from CDN.
Use of $() function.
Dont jump the gun – use of $(document).ready() function.

 DOM manipulation
with JQuery

Use of selectors in JQuery.
DOM traversal and manipulation.
Using Element, Class and ID Selectors with jQuery.
Modifying the Content and Styles of Selected Elements.
Adding and Removing Elements Using jQuery.
Binding events to elements.

Jquery Event


Attach Event.
Live Events.

Jquery – Document
Traversal


Getting a specific DOM element.

JQuery – Effects


JQuery Effect Methods.
jQuery Hide and Show.
jQuery Toggle.
jQuery Slide – slideDown, slideUp, slideToggle.
jQuery Fade – fadeIn, fadeOut, fadeTo.
jQuery Custom Animations.

jQuery – AJAX

Learn to make interactive websites and web applications with Try-Catch Classes. We emphasize on practical sessions rather than theory. This Jquery training course in Mumbai coupled with HTML + CSS + Javascript course will help students to get an easy entry into a career in front-end web development.
PLACEMENTS:
At TryCatch Classes, we provide Placement Training in Mumbai. We provide interview questions along with supplying your Resumes to many Companies.
CERTIFICATION:
At the end of the Jquery training course in Mumbai, you will get a certification from us which will be very helpful for you in your future
AWARDS:
TryCatch Classes has been awarded multiple times as the "Most Promising Software Training Institute in Maharashtra" and "Social Impact Award for Outstanding Contribution to Indian Education System" at Education several Award functions.
OTHER RELATED COURSES:
TryCatch Classes provides the best JQuery Classes in Mumbai. Along with JQuery Training course, you can also learn,
BATCH DETAILS:
Batch Timing
Weekdays & Weekend Batch.

Batch 1 : 7 am to 9.30 am.
Batch 2 : 10 am to 1 pm.
Batch 3 : 2 pm to 4.30 pm.
Batch 4 : 5 pm to 7 pm.
Batch 5 : 7 pm to 9.30pm.
If you are looking for a successful career in Jquery, we invite you to visit our training facility or contact us:
CONTACT US