Php Training In Mumbai PHP Classes Mumbai
Best php classes mumbai.
At TryCatch, we provide one-on-one training in php/mysql. We practise a lot with our students. So making projects on php is what we concentrate on. Also work on live projects and websites with us and gain invaluable experience in PHP.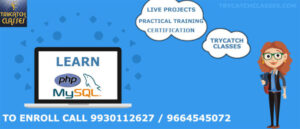 OBJECTIVES:
At the end of this Php training classes, you will be able to:
Confidently use PHP and MySQL for making web applications.
Create interactive web applications using PHP and MySQL.
Code in php like a pro.
WHAT YOU WILL LEARN FROM THIS COURSE:
When you learn PHP-MySql with us, you get to :
Use the Php features to build web applications that work across different browsers.
Develop database and store information automatically.
Learn how corporate companies use Php.
Prepare for php interview questions.
Work on live projects.
PREREQUISITES:
Knowledge of HTML, CSS, Javascript is helpful.
COURSE MODULE:
Training Schedule – PHP-MySQL Training Course

Module 1:
Introduction


Understanding client/server roles, Apache.
XAMPP/WAMP Installation.

Module 2:
PHP Fundamentals

PHP Basic syntax.
Data Types.
PHP Variables.
PHP Expressions.
Operators.
PHP Loops.

Module 3:
Arrays

Enumerated Arrays.
Associative Arrays.
Array Iteration.
PHP Multi-Dimensional Arrays.
Array Functions.

Module 4:
PHP Functions

PHP Functions.
Syntax.
Arguments.
Variables.
Return Values.
PHP include(), require().

Module 5:
PHP Forms

Sending data with Get & Post.
Form Action.
File Uploading.

Module 6:
PHP Global Arrays

$_GET
$_POST
$_SESSION
$_FILES
$_REQUEST
$_COOKIE
$_SERVER

Module 7:
PHP Cookies
&
PHP Sessions

Cookie handling.
Session Handling.
Login Session.
Managing user.

Module 8:
Advanced SQL
query building

Select, Insert, Update, Delete.
WHERE condition.
Order By.
Group By.
Having.
Limit and Offset.
LIKE, AND, OR operators.

Module 9:
SQL Functions

Using SQL functions like AVG, COUNT, SUM, MIN, MAX, LCASE, UCASE.

Module 10:
Advanced MySQL Joins ,
Full Text Search

INNER Join, MySQL LEFT Joins, MySQL RIGHT Joins.
Complex SQL Queries.
Full Text Search.

Module 11:
Ajax & JSON

Ajax.
Json.
Search Data Using Ajax.

Module 12:
Live Projects.

Work on many Live Projects with us from the scratch.
Make advanced applications using PHP-MySQL.

Total Training Hrs
30-40 hours.
Batches
Weekdays (Morn/Even).
Weekends.
Learn to make interactive websites and web applications with Try-Catch Classes. We emphasize on practical sessions rather than theory. This PHP training course in Mumbai coupled with the framework CodeIgniter (MVC) course will help students to get an easy entry into a career in back-end web development.
PLACEMENT GUARANTEE:
We offer 100% placement guarantee in PHP DEVELOPMENT COURSE and that is why we are the no 1 Php training classes in Mumbai. At TryCatch Classes, we train students for interviews and offer placements in corporate companies. Most of all, we make you capable of creating difficult applications too.
CERTIFICATION:
At the end of the Php training course in Mumbai, you will get a PHP Certification from us which will be very helpful for you in your future.
AWARDS:
TryCatch Classes has been awarded multiple times as the "Most Promising Software Training Institute in Maharashtra" and "Social Impact Award for Outstanding Contribution to Indian Education System" at Education Leadership Awards.
If you are looking for a successful career in PHP, we invite you to visit our training facility or contact us:
CONTACT US
Best PHP Training Institute classes in Mumbai :
TryCatch Classes offers php training in Borivali Mumbai covering back-end operation of your site. Our courses are always tailored around your learning needs and can be delivered on-site at your premises or off-site at our Mumbai training centre.
PHP development company in Borivali, Mumbai provide Open source php services, php applications and mvc frameworks. We are located in Mumbai, India and targeting all over the world in php web development.
On this php course you will interact with your tutor on a one-to one basis and receive tailored help to suit your learning needs.
Trycatchclasses.com is a php Training in Mumbai, php Training course in Borivali Mumbai, Best php Training institute with live Project in Mumbai, Best php Training course institute with live Project training is given by real time expert tutor in Andheri Mumbai, php Training institute in Mumbai.

Our PHP Training course is built on practicals. Certification exams are designed to achieve and enhance professional skills in PHP-MySQL. The php classes mumbai training is specially designed for individuals who wish to build skills in PHP and MySQL. You can also become a professional freelance php developer after completing this course. We provide advanced php training with live project training in php.
Try Catch is best php classes mumbai to enable web developers and others users with limited programming experience to build dynamic database driven e-commerce web sites. We are the best php development company providing the best php training in Mumbai.
The Best PHP Training Institute In Mumbai is here.
Try Catch Classes provides the best training for PHP Classes in Mumbai.
OTHER RELATED COURSES:
TryCatch Classes provides the best PHP Classes in Mumbai. Along with PHP Training course, you can also learn,
Contact Us for more details : 9664545072 / 9930112627.